Malori's Top 10 List for Scenic Beauty
Here at Amazing Journeys, we're lucky to have the best jobs in the world—and we think our good fortune is worth sharing. So, when your next journey seems like a distant dream, take a few minutes to explore our WANDERLUST blog—it's chock-full of engaging tales and helpful tips from our travels around the world.
Tuesday, June 18th, 2019
by Malori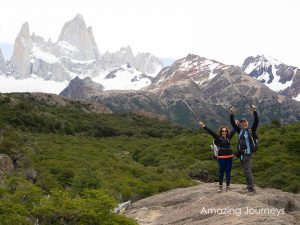 Everyone's got a top 10 list: TripAdvisor, 1,000 Things to See Before You Die, Conde Nast Traveler, The New York Times, Viator… I've decided to create my own. Having escorted groups to 7 continents, traveled to 130 countries, sailed on 126 cruises, and visited 38 US states, I consider myself to be well qualified for this task.
Today I want to share: Malori's Top 10 List for Scenic Beauty (OK, I had to go with 12)
There are so many amazing places on this earth that are so beautiful, being in any one of them actually takes my breath away. I have been so fortunate to have had several such experiences. And let's face it, since beauty is in the eye of the beholder, we may all have different places that excite and inspire us. For me, it's where the snow covered mountains meet a body of water, be it a sea, a lake an ocean or a river.
With many places, an entire region or even most of the country is so spectacular, it would win a top spot on my list, but I went with the more specific destination, just in case you should decide to visit… I promise, it'll be so worth it!
Canadian Rockies (Banff, Lake Louise), Alberta, Canada
Queenstown, New Zealand
Jokulsarlon Beach and Lagoon (also known as Diamond Beach), Iceland
Inside Passage, Alaska
Lake Tahoe, CA
Vail, Colorado
Jungfrau, Switzerland
Flam, Norway
Antarctica
Glacier Alley, Chilean Fjords, Chile
El Chalten, Patagonia, Argentina
Iguazu Falls, Argentina and Brazil
If you can get to any one of these magical spots on earth, consider yourself lucky. More than one, consider yourself blessed. I'll be back with a new list in the coming weeks!
Tags: amazing journeys, group travel, jewish singles, photography, pictures, scenic beauty, top 10, travel
Posted in blog, events, general, interesting things about interesting places, north america, south america, trips | Comments Off on Malori's Top 10 List for Scenic Beauty
Thursday, May 9th, 2019by Erin

If you're looking for your next amazing social media picture, look no further than South America! Imagine the reactions from your friends and family when they see a picture of you waddling with penguins or hiking through a bog.

The pictures we share on Facebook, Instagram and other social media platforms are indicative of the persona that you choose to portray. Whether you surround yourself with gorgeous scenery, hop in with a group of locals, strike a silly pose or showcase your meal, everyone takes different pictures.

South America offers such a wide variety of landscapes, animals, architecture and culture that you will be posting your experience and met with awe and jealousy.
We are so excited to be going back to South America and absolutely love the itinerary that showcases Argentina, Uruguay and Chile as well as destinations like the Chilean Fjords and Strait of Magellan. Celebrating New Year's at sea is one of our favorite activities and going back to Easter Island to visit the Moai statues is amazing!
So if you're ready to snap a few selfies, share with your social network and show off your amazing journey, come join us in South America!
South America trip details can be found by clicking here.
Tags: amazing journeys, group travel, jewish singles, new year's eve, photography, pictures, selfie, south america, travel
Posted in blog, events, general, south america, trips | Comments Off on Strike a pose
Tuesday, May 7th, 2019
Thanks to the over 125 Amazing Journeyers who came out to our Happy Hour event in New York!
It was so great to see a lot of familiar faces, meet new traveling companions and enjoy a night out together! If you weren't able to make it to this party, don't worry, we will be back!
And if you don't live near New York, we've got you covered too!
Amazing Journeys will be hitting the road this year and coming to a number of cities around the country (some international destinations as well), so stay tuned – we may be coming to your city next!
Thursday, April 25th, 2019
by Erin
If a picture is worth a thousand words, our Instagram feed is worth millions!
Our Instagram feed not only allows you to follow along with trips as they are happening but is also where we share travel insight, highlight some of the most beautiful places in the world, show behind the scenes at the AJ office and more. Instagram is an amazing place to indulge your wanderlust!
We're posting all the time, so click here to follow us on Instagram. That way, you won't miss any of the amazing posts we have to share.
Want to see something we haven't yet posted? Send us some suggestions – we'd love to hear from you!
Tags: amazing journeys, group travel, instagram, jewish singles, social media, travel
Posted in blog, europe, general, interesting things about interesting places, trips | Comments Off on Follow us on Instagram
Thursday, March 28th, 2019
by Malori
Ave Shalom WOW.
I really liked WOW. As an airline, it had a certain 'joie de vivre' and a style all its own. From the magenta colored planes to the smiling but somewhat snarky attitude of the flight attendants, their uniforms and best of all, just the name WOW said it all.

But airlines come and airlines go. If you've been in the travel industry as long as I have, you understand it's just part of the natural selection process. At the bottom of the food chain are the "low cost carriers." They are actually doomed from the start if you ask me. An airline or any other business cannot operate on a shoestring. While it may be nice for an airline to advertise uber low fares, they still have to maintain their planes, hire qualified pilots and have some savings for a rainy day, when something goes wrong and you need a back-up plan. Low cost carriers usually have great fares, a few planes and a "fly by the seat of their pants" position. It's not sustainable. Add to that the large giants of the sky, the competing carriers who are ready to wage an all out war when a low cost carrier comes into the market. Advertising picks up, fares drop to match the new airline and before you know it, the new carrier can't compete with the big dogs.
So while I am sad to see another carrier go, it was only a matter of time. So long WOW. C'est la vie. Or as they say in Icelandic, svo lengi.
Tags: airline, amazing journeys, budget airline, group travel, jewish singles, low cost carrier, travel, wow
Posted in blog, europe, general, interesting things about interesting places, trips | Comments Off on Goodbye WOW